Akihiko SHIRAI, Ph.D
Creator and Researcher of Entertainment VR and UXDev in Metaverse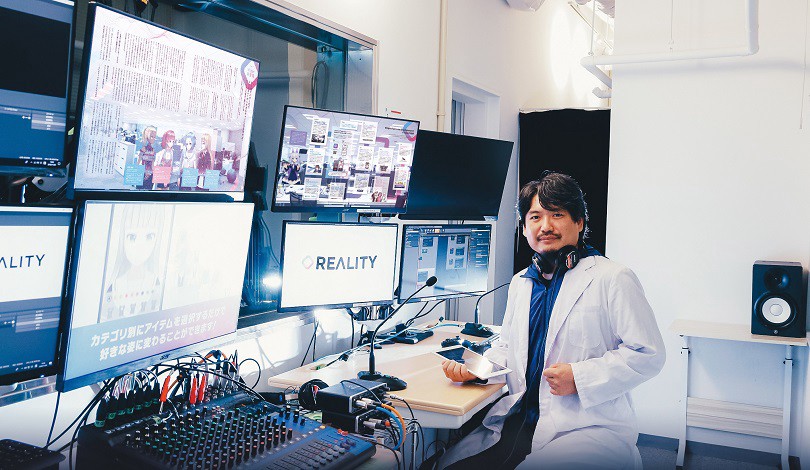 AKIHIKO SHIRAI, Ph.D. (Engineering), is a researcher in metaverse and entertainment virtual reality. He is currently the director of the GREE VR Studio Laboratory at REALITY, Inc. and the Digital Hollywood University Graduate School.
He studied photographic engineering and image processing. He developed "Fantastic Phantom Slipper", which uses dynamic phantom sensation with vibro-tactile, as his first masterpiece in 1997. Until 2001, he worked for Canon and Criterion as a game development consultant to market RenderWare, a multi-platform graphics middleware for the game industry. He returned to academia and received his Ph.D. from the Tokyo Institute of Technology in Japan in 2004 with research on the "Tangible Playroom", an entertainment system for young children using haptics, a floor screen, and a real-time physics engine. He was an R&D researcher at NHK-ES in Japan, focusing on the next-generation TV production environment, before moving to ENSAM Presence & Innovation Laboratory in France from 2004 to 2007 to work on R&D for a virtual reality theme park development project with some significant research projects. Rapid computer vision on GPU "GPUVision", robotic game player "RoboGamer" and "WiiMedia" projects were accepted by ACM SIGGRAPH and IEEE VR.
He worked for National Museum of Emerging Science and Innovation (Miraikan), Tokyo, Japan, as a science communicator and exhibition planner from 2008 to 2010. He worked in Information Media, Kanagawa Institute of Technology (KAIT) as an associate professor from 2010 to 2018. Simultaneous multiplex image systems "Scritter", "ExPixel" and "ExField", manga immersive system "Manga Generator", nursery VR entertainment "Real Baby - Real Family" have been awarded by ministry, academia and game industry. Since 2018, he has been a visiting professor at Digital Hollywood University Graduate School. In June 2018, he returned to the entertainment industry as a research director to launch "GREE VR Studio Laboratory" in REALITY, Inc..A family of GREE, Inc. that promotes a new XR metaverse industry. Conducting research to improve vTuber (Virtual YouTuber, Virtual Persona, Virtual Artist) and exploring XR live entertainment. Contributing to the development of new user experiences in XR entertainment and solutions such as "VibeShare", a suite of virtual live enchanting technologies for sharing non-verbal interaction in XR live entertainment.
In REALITY, Inc, representative of the metaverse industry in Japan, he produces some visualizations of near-future user experiences using REALITY.app in UXDev projects on YouTube, and contributes to some PoC for B2B metaverse using Mozilla Hubs with Japanese translation and community developments. Visiting Professor at the Digital Hollywood University Graduate School. Vice President of the Society for Art and Science. Ambassador and board member of [Laval Virtual] (https://www.laval-virtual.com/). Latest book written: "Collaborating with AI to become a Godhand Illustrator - How to comprehend Stable Diffusion". His motto is "Creating people who create" (from his written book in The Future of Game Design - Science in Entertainment Systems).
His latest interests in the "VR4.0 era", as he proposes, are the development of a multi-user avatar society called Metaverse, User Generated Content (UGC), Blockchain, and User Experience (UX) in AI, and in particular, his research on generative AI is presented to the general public in an easy-to-understand manner. In particular, the book "Collaborating with AI to become a Godhand Illustrator - How to comprehend Stable Diffusion" (AIとコラボして神絵師になる 論文から読み解くStable Diffusion) is a book that presents research on generative AI in an easy-to-understand manner for the general public. Diffusion was published within two months of its release and has received a great response from the community.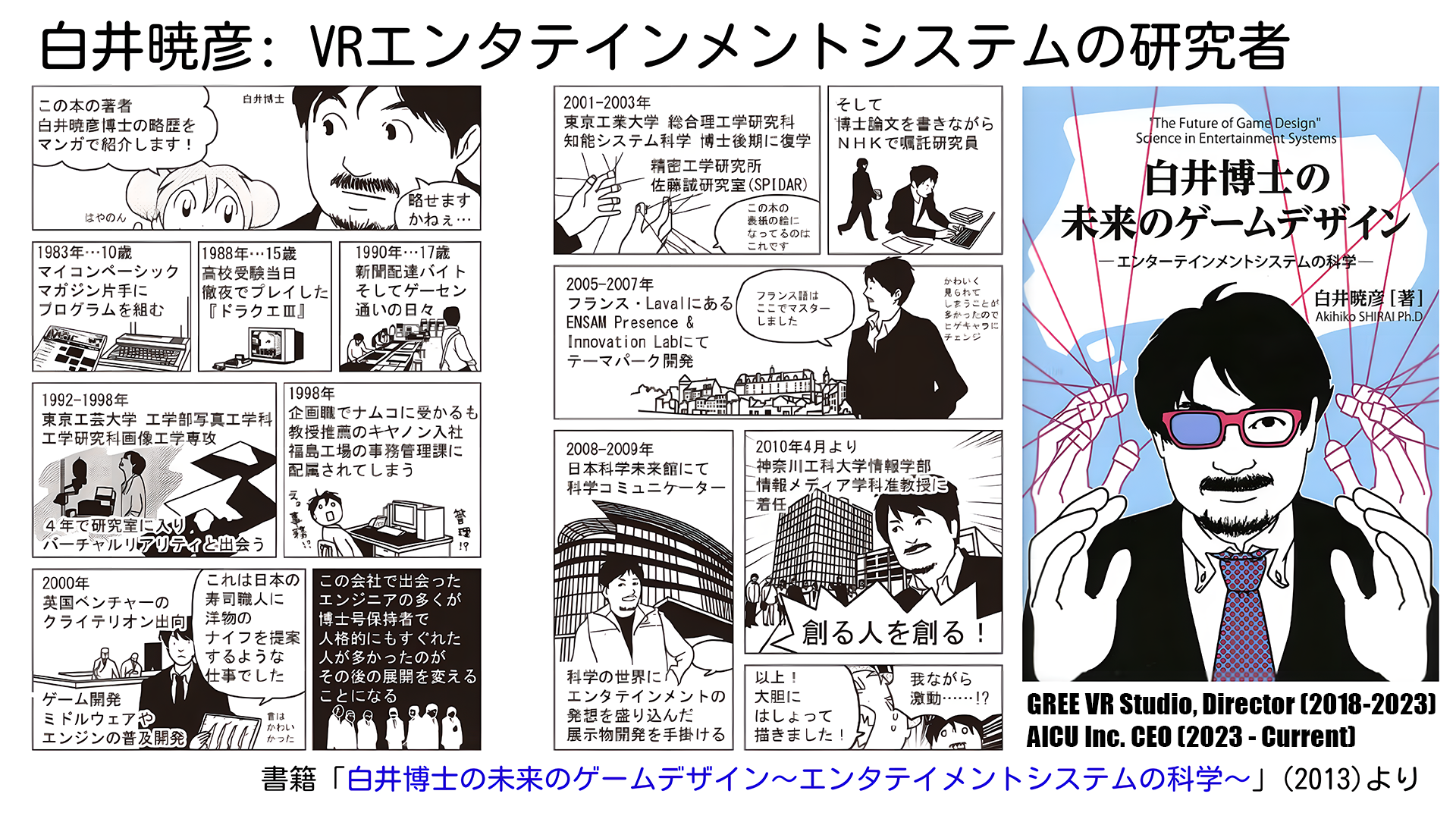 Contact
Contact Form / [email protected]_ob
GitHub Calendar
Loading the data just for you.
Research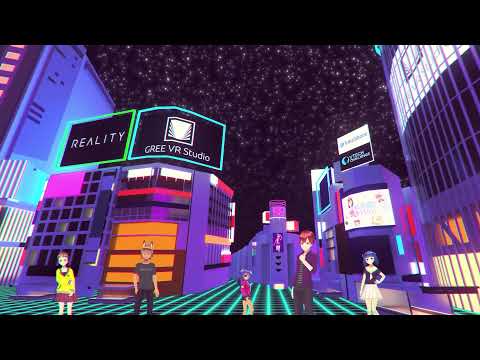 Works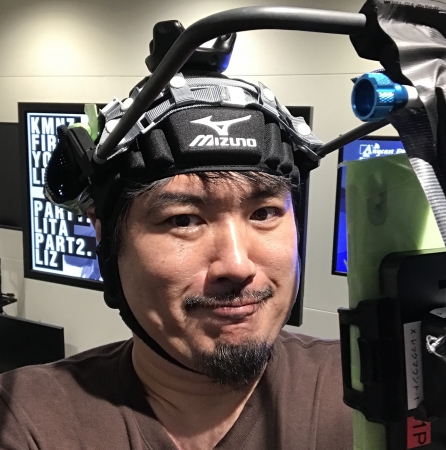 GREE VR Studio Laboratory (2018-)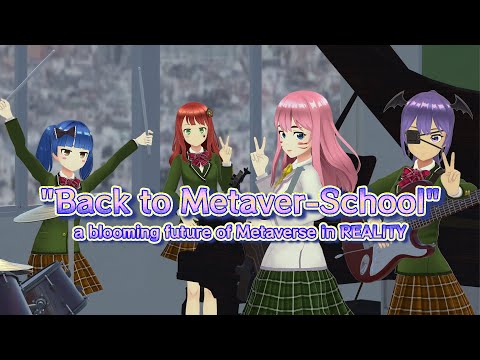 Events
Patents
Information display apparatus WO US CN JP US9769442B2
Video delivery system, video delivery method, video delivery program, JP JP2020109935A
Video distribution system, video distribution method, and video distribution, US JP US20220038777A1
Computer program, server, terminal, and speech signal processing method, WO US JP US20210335364A1
Computer Program, Server Device, Terminal Device and Method, US JP US20210099735A1
Video distribution system, video distribution method, video distribution, WO US US20220070513A1
Server device, terminal device, and display method for controlling facial, WO US JP US20210312167A1
"Laval Virtual ReVolution" (Session Chair, exhibition curation)
[2019] VR5.0
[2018] 1+1=∞ (one plus one equals unlimited)
[2017] TransHumanism++
[2016] REAL VIRTUALITY
[2015] Kiddy Dream in Virtual Reality
[2014] Frontier village in Virtual Reality
[2013] The NEXT BIG STEP
[2012] Virtual Reality That Moves You
[2011] Converging
[2010] Diverseness
[2009] ReVolution Causes Revolutions
[2008]World Performance of VR Applications
KAIT Shirai Lab (2010-2018)
Legacy Projects
Lecture
Lecuture and Talks (part)
2023
2022
「メタバース時代の人間の界面:アバター技術とUXの探求~REALITY と GREE VR Studio LaboratoryのR&D活動紹介」, 画像電子学会 Advanced Image Seminar 2022, (2022/6/14) Web
Past Talks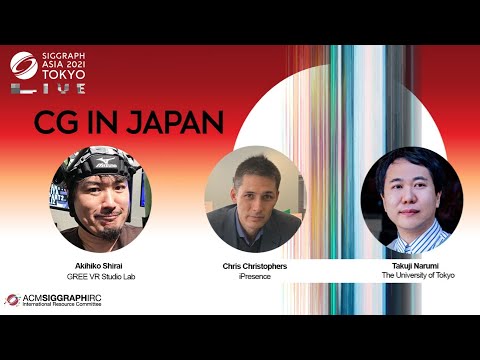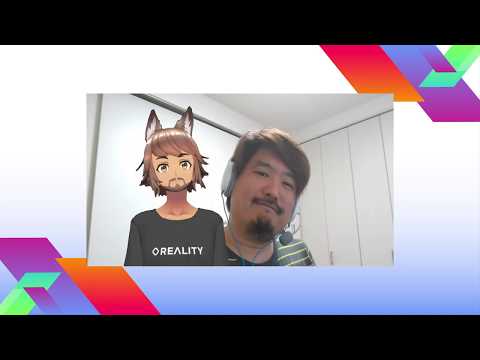 Slide portal
Digital Hollywood University
---
Misc
---
Books
Online Publications
CGWORLD特集 メタバース開発者の卵が「自分は何者か」を発見する場所【GREE VR Studio Laboratoryリサーチ系インターンシップ】2023/02/16 Web
「これまでの 5 年、これからの 5 年――「VR 元年」の終焉から世界同時参加の XR ライブエンタメへ」(メディア芸術カレントコンテンツ:文化庁)2020年10月29日 https://mediag.bunka.go.jp/article/article-16853/
技術書典
白井暁彦他,「AIとコラボして人気絵師になる」,グリー技術書典部誌 2022 年秋号,Web

白井暁彦他,「Mozilla Hubs を用いたオンラインイベント WebVR 化テクニック」,グリー技術書典部誌 2020 年秋号, Web

白井暁彦他,「Virtual Cast と Hapbeat を使った国際双方向アバター触覚ライブの開発」,グリー技術書典部誌 2020 年春号, Web
Academic Papers
2023
白井暁彦「文化・技術・研究史で読み解く令和のメタバースの研究開発」,電子情報通信学会, 通信ソサイエティマガジン No.64 春号 2023, p.285-294 PDF
2022
2021
白井暁彦, 中野友介, 堀部貴紀, ボイスチェンジャーサービスの研究開発を通したインターンによる次世代人材育成(Developing next-generation creators through research and development in voice changer services), デジタルハリウッド大学 研究紀要第 8 号, (2021/11/25), PDF, SlideShare

山崎勇祐(REALITY 株式会社/東京工業大学大学院), 白井暁彦「VibeShare::Performer — Emoji・触覚・音効によるオンライン音楽ライブの双方向化」, 第 26 回日本バーチャルリアリティ学会大会 (2021/9/21). Web PDF

堀部貴紀(REALITY/明治大),橋本順之(グリー),白井暁彦(REALITY),森勢将雅(明治大), 「FFT ライブラリを対象とした実時間 Vocoder の速度比較」, 日本音響学会 2021 年秋季研究発表会(2021/9/7)

Yusuke Yamazaki, Akihiko SHIRAI, "Pseudo Real-Time Live Event: Virtualization for Nonverbal Live Entertainment and Sharing", Laval Virtual 2021 ConVRgence, 2021/7/7. Web Abstract Poster

堀部貴紀(REALITY/明治大),白井暁彦(REALITY),森勢将雅(明治大),「『転声こえうらない』を通したボイスチェンジャー品質改善のための定性分析と考察」, 日本音響学会 2021 年春季研究発表会, Web, Slides, SlideShare (2021/3/11)

山崎勇祐, 白井暁彦, 「VibeShare:Vote ~オンラインでの出演者と観客の非言語コミュニケーションの実現~」, 映像表現・芸術科学フォーラム 2021(Expressive Japan 2021), Abstract, Slides, SlideShare (2021/3/8)
2020
2019
Before 2018
Refer my paper indexed in Research Gate…
Rex Hsieh, Marika Higashida, Yuya Mochizuki, Takaya Asano, Akihiko Shirai, Hisashi Sato, "MasQueRade: Onsite QR Code based VR Experience Evaluation System using Sanitary Mask", Conference Paper, the Virtual Reality International Conference - Laval Virtual (April 2018)
Akihiko Shirai, Rex Hsieh, Yuya Mochizuki, Takaya Asano, Marika Higashida, "Real Baby - Real Family"- Multi-Sensory Feedback Tangible Baby VR, International Journal of Virtual Reality (November 2017)
Rex Hsieh, Yuya Mochizuki, Takaya Asano, Marika Higashida, Akihiko Shirai, "Real baby - real family": VR entertainment baby interaction system, ACM SIGGRAPH 2017 Emerging Technologies (July 2017)
"Real Baby - Real Family: Holdable tangible baby VR", the Virtual Reality International Conference - Laval Virtual 2017 (March 2017)
Akihiko Shirai, Hisataka Suzuki, Yuta Yamaguchi, Kazuhisa Yanaka,Glassless Augmented Display for Public Signage,ACM VRIC 2016,2016年
鈴木久貴, 白井暁彦, 谷中一寿,裸眼立体視技術を応用した多重化映像技術の提案,ITを活用した教育研究シンポジウム2015,2016年
Akihiko SHIRAI,ExPixel: Multiplex hidden imagery, research in entertainment beyond 3D,SIGGRAPH 2015, CG in Asia,2015年
Hisataka Suzuki, Rex Hsieh, Ryotaro Tsuda, Akihiko Shirai,ExPixel FPGA: Multiplex Hidden Imagery for HDMI Video Sources,SIGGRAPH 2015 Posters,2015年
Hisataka Suzuki, Yuria Suzuki, Ayumi Ando, Akihiko Shira,ExPixel FPGA: multiplex hidden imagery for HDMI video sources,Laval Virtual ReVolution 2015,2015年
Yuria Suzuki, Ayumi Ando, Ryotaro Tsuda, Akihiko Shirai,Face a la mode: A new immersive entertainment system that can train body and facial expressions,Virtual Reality International Conference – ACM VRIC 2015 Proceedings,2015年
森 拓也,岡本 遼,鈴木 久貴,白井 暁彦,ミュージアムのための多重化サイネージシステムの提案,Entertainment Computing 2015,2015年
鈴木 久貴, 鈴木 百合彩, 津田 良太郎, Vimuktalop Pinyapach, Jaruthien Nine, 白井 暁彦,多重化不可視映像技術(第3報) ―普及型ディスプレイにおける視聴特性評価―,第20回日本バーチャルリアリティ学会大会,2015年
Hisataka Suzuki, Yannick Littfass, Rex Hsieh and Akihiko Shirai,Familink: expanding the social value of the living room with multiplex imaging technology,VRIC (VIRTUAL REALITY INTERNATIONAL CONFERENCE),2014年
Yannick Littfass, Hisataka Suzuki and Akihiko Shirai,"Scritter" to "1p2x3D": application development using multiplex hiding imaging technology,VRIC (VIRTUAL REALITY INTERNATIONAL CONFERENCE),2014年
小出 雄空明,藤村 航,國富 彦岐,田口 裕起,鈴木 久貴,白井 暁彦,液晶フラットパネルにおける多重化隠蔽映像の試行と実現,映像情報メディア学会 立体映像技術研究会「立体映像における人間工学的研究,及び立体映像技術一般」,2014年
田口裕起・鈴木久貴・白井暁彦,多重化不可視映像技術(第2報) ―FPGAを用いたハードウェア化―,電子情報通信学会 SIS研究会,2014年
藤村 航,小出 雄空明,國富 彦岐,田口 裕起,鈴木 久貴,白井 暁彦,直線偏光による多重化隠蔽型ハイブリッド3Dディスプレイにおける画質評価,映像情報メディア学会 立体映像技術研究会「立体映像における人間工学的研究,及び立体映像技術一般」,2014年 1.白井 暁彦,3Dディスプレイに付加価値を与える多重化隠蔽映像技術,応用物理学会・日本光学会・微小光学研究グループ, 第131回微小光学研究会招待講演,2014年
白井暁彦,"Scritter", A futuristic AR technology which extends current 3D display,5th ASIAN FORUM ON SMART MEDIA AND AUGMENTED REALITY, JPEG Augmented Reality, Joint Photographic Experts Group and Augmented Reality Adhoc Group,2014年
田所康隆,藤村 航,北田大樹,白井暁彦,エンタテイメントシステム展示を対象とした質的評価ツールの提案,エンタテイメントコンピューティング2013,2013年
藤村航,小出雄空明,奈良優斗,白井暁彦,VR エンタテイメントシステムのための リアルタイムマンガ風画像生成シェーダーの開発,第18回日本バーチャルリアリティ学会大会,2013年
北田大樹,白井暁彦,WebSocketを用いたスマートフォン上でのエンタテイメントコンテンツ閲覧時のリアルタイム行動分析,エンタテイメントコンピューティング2013,2013年
國富彦岐,石川 晃,田所 康隆,白井 暁彦,年齢層とゲーミングデバイスの違いによる面白さの比較調査,エンタテイメントコンピューティング2013,2013年
白井 暁彦, 佐藤 勝, 草原 真知子, 久米 祐一郎,「足インターフェイスによる複合現実感アミューズメントシステム : ファンタスティックファントムスリッパ (Mixed Reality Amusement System with Foot Interface : Fantastic Phantom Slipper)」, 日本バーチャルリアリティ学会論文誌, 4 巻 4 号 p. 691-697, 1999 年. https://doi.org/10.18974/tvrsj.4.4_691, PDF
Yuichiro Kume, Akihiko Shirai, Motoshisa Tsuda, Toyohiko Hatada, "Information Transmission through Soles by Vibro-tactile Stimulation" (October 1998)
IVRC community events
---
CEDEC History (GDC in Japan)
CEDEC2000
「RenderWare3」と「RenderVision」による次世代ゲーム開発の高速化 http://cedec.cesa.or.jp/2000/detail_categori.html
CEDEC2012
3D ディスプレイと互換の多重化・隠蔽映像技術「Scritter」が拓く 3D コンテンツの未来 https://cedec.cesa.or.jp/2012/program/INT/C12_P0205.html インタラクティブセッション会場投票賞 1 位受賞 https://cedec.cesa.or.jp/2012/program/INT/result.html
CEDEC2013
姿勢評価によるリアルタイム感情推定を特徴とする動的マンガ生成システム「Manga Generator」 http://cedec.cesa.or.jp/2013/program/GD/7225.html https://cedil.cesa.or.jp/cedil_sessions/view/1083
CEDEC2014
ゲームの次元を拡張する次世代多重化映像技術「ExPixel」 https://cedec.cesa.or.jp/2014/session/AC/5423.html インタラクティブセッション 3 位受賞 https://cedec.cesa.or.jp/2014/session/INT/result.html
CEDEC2016
多重化多視点 VR アーケードゲームシステム -DUAL DUEL- https://cedec.cesa.or.jp/2016/session/AC/8656.html 「インタラクティブセッション オーディエンス賞 2 位受賞 https://cedec.cesa.or.jp/2016/session/INT/result.html
CEDEC2017
家族愛をテーマにした子育て VR エンタテイメント "Real Baby - Real Family" http://cedec.cesa.or.jp/2017/session/AC/s58e0597c6eab2/ https://cedil.cesa.or.jp/cedil_sessions/view/1758
次世代 VR/AR エンタテイメントのための多重化映像生成ミドルウェア https://cedil.cesa.or.jp/cedil_sessions/view/1607 https://www.slideshare.net/aquihiko/cedec2017-vrar
CEDEC2019
REALITY「なりたい自分で、生きていく」リアルタイムライブで VTuber が活躍する舞台を作る現場の 1 年 https://cedec.cesa.or.jp/2019/session/detail/s5c9df84045dd1 https://www.wantedly.com/companies/reality/post_articles/184950
「宇宙 x 教育 xVR =ちゃんと学べる体感サイエンスツアー「ありえな LAB」の挑戦 [https://cedec.cesa.or.jp/2019/session/detail/s5c9c660d3c16c.html] [https://www.slideshare.net/harukasakami/xxvr-lab]
CEDEC2021
白井暁彦,山崎勇祐「VibeShare: コロナ禍の音楽ライブを「触覚」で双方向化する」, (Blog)
Archived Projects in Github pages
---
Contact
---
Blog
Github pages Since 19th Dec 2013
---
Favorited Articles